Montaperti Hotel Siena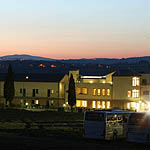 BOOKING FORM - RICHIESTA PRENOTAZIONE

---
"


MONTAPERTI HOTEL





Ubicazione: A due passi dal sito della storica battaglia di Montaperti, come una terrazza su Siena, il colle del Montaperti Hotel offre ad Est il tramonto sulla Città del Palio e ad Ovest l'alba sulle Crete Senesi, in un contesto panoramico fra i più belli d'Italia.

Riscopri il gusto della Toscana, affacciati sulla storia, perditi nei piaceri della gastronomia più raffinata grazie ad una delle nostre soluzioni di soggiorno.

Le Camere: Da un design di ultima ispirazione, il concetto di camera è il risultato di una equilibrata fusione di elementi essenziali e sperimentazione tecnologica. La dinamica delle linee si smorza dolcemente nei colori che richiamano la terra di Siena proponendo così all'ospite un'accoglienza totale, fatta di comfort ed eleganza.



telefono diretto



plug Internet



cassaforte privata



minibar



Tv satellitare



aria condizionata



gestione elettronica della camera con serratura a trasponder



bagno privato con phon e telefono



prodotti cortesia biologicamente testati



packaging ecologico




I Servizi: Piscina attrezzata con solarium sulle crete, fitness center panoramico con sauna, bagno turco e massage corner. Ristorante "Le Crete" fino a 250 ospiti, roof Martini terrace, lounge bar. Conference rooms modulari con capienza max 300 pax attrezzate per la congressistica e per il banqueting management. Cucina attrezzata con angolo corsi e degustazioni. Internet point, parcheggio privato.

Residences: I miniappartamenti della zona Residence sono la pratica alternativa alle camere d'albergo. Costruiti con gli stessi criteri di modern design e funzionalità, sono dotati di kitchen corner, per poter provvedere autonomamente al pranzo o alla cena. Per questo motivo si adattano perfettamente sia ai soggiorni business, settimana corta o soggiorni prolungati, che alle vacanze familiari, in particolar modo le famiglie con bambini durante i mesi temperati.
Come le camere d'albergo, i miniappartamenti sono tutti dotati di telefono diretto, plug Internet, cassaforte privata, minibar, Tv satellitare, aria condizionata, gestione elettronica della camera con serratura a trasponder, bagno privato con phon e telefono, prodotti cortesia biologicamente testati, packaging ecologico. Offrendo in più il vano soggiorno e l'angolo cottura con cucina attrezzata.


I miniappartamenti junior hanno una struttura semplice e lineare ricavata sullo stesso livello e quindi adatta in particolar modo a soggiorni business o a romantici soggiorni di coppia



I miniappartamenti superior hanno una struttura su due livelli, particolarmente adatta alle vacanze familiari, potendo ospitare fino a quattro persone




"

---
Dove siamo:


---
"


MONTAPERTI HOTEL





Location: To two steps from the place of the historical battle of Montaperti, as a terrace on the city of Siena, the hill of the Montaperti Hotel offers on East the sunset on the Palio city and on West the dawn on the "Crete" of Siena, in one of the most beautiful panoramic contest of Italy.

Rediscover the enjoyment of the Tuscany, appear on the history and get lost in the pleasures of the most refined gastronomy thanks to one of our stay solutions.

Rooms: From a design of last inspiration, the room concept is the result of one balanced fusion of essential elements and technological experimentation. The dynamics of the line tone down sweetly in the colors that recall the Siena earth proposing therefore at the guest a total reception made of comfort and elegance.



Direct telephone



plug Internet



private safe



minibar



TV with the satellite



air conditioning



electronic control of the room with transponder lock



private bath with hair dryer and phone



courtesy products biologically tested



ecological packaging




Services: Equipped swimming with a solarium on the "Crete", panoramic fitness center with sauna, turkish bath and massage corner. Restaurant "Le Crete" until 250 guests, roof Martini terrace, lounge bar. Modular conference rooms with capacity of maximum 300 pax equipped for the congress and banqueting management. Equipped kitchen with demonstrations and tasting corner. Internet point, private parking.

Residences: The mini apartments of the Residence zone are the useful alternative to the Hotel's rooms. Built with the same sense of modern design and functionality, are equipped with kitchen corner to cook your own meals. For that reasons they are perfectly suitable to business stay, short week or longer stay, and familiar holidays during the temperate months.
The mini apartments are all equipped with direct telephone line, Internet plug, private safe, satellite TV, air conditioning, electronic control of the room with transponder lock, private bath with air dryer and phone, courtesy products biologically tested, ecological packaging. Also they offer more living space and equipped kitchen corner.


The junior mini apartments have an easy and linear structure built on the same level, so particularly suitable to business stays or romantic couple stays



The superior mini apartments have the structure on two levels, particularly suitable for the familiar holidays, its could guest until four people




"
---
Where we are: